Frequently Asked Questions
1633
Does NAROO MASK filter PM2.5?
NAROO MASK F LINE filters fine dust and particulate matter up to PM1.6. 
(PM2.5, by definition, includes 0 to 2.5 micron particulate material).
1634
How firm is the mask and how well does the mask fit the face and filter the air?
The nose clip of the F LINE masks helps to tighten the mask on your face, preventing pollution particles from getting unfiltered.
1635
DOES NAROO MASK FILTER GASES OR AIR POLLUTANTS, LIKE SMOKING FROM DIESEL VEHICLES OR TRUCKS?
NAROO MASK does not filter gases. NAROO MASK focuses on filtering PM2.5 and not gases because compared to other pollutants, PM2.5 is responsible for most health problems. Solid particles smaller than 2.5 microns are easily inhaled and directly absorbed into the bloodstream, initiating a pro-inflammatory cascade that leads to several negative health effects.
1636
WHY DO NAROO MASK PRODUCTS DO NOT PROTECT FROM PARTICLES LESS THAN PM 1.7?
Our products are especially designed for outdoor sports, so we have developed a product that does not compromise fabric breathability. NAROO MASK has created the perfect balance between efficient protection and easy breathing. In sports, breathing is crucial. Our goal is always to create products that can offer better protection without compromising filter breathability.
1639
Do I need to change the filter of my NAROO MASK? Can I wash my NAROO MASK without damaging the filter?
No, our masks are washable and can be used as long as desired. We have special washing instructions to maintain the same performance for a long time.

WASHING INSTRUCTIONS

Step 1
Fill a small tub or sink with lukewarm water, put some detergent (wool shampoo/mild detergent) and place the mask. Soak for 5 minutes.

Step 2
Hand washes only.
Use gentle movements to swish the item through the sudsy water. Avoid scrubbing or twisting actions that can stretch or damage the fabric.

Step 3
Once you have washed the mask well, remove it from the water. Drain the tub, and refill it with clean cool water (do it for 3 times). Rinse the mask by pulling it in and out of the water until soap is removed.

Step 4

Gently squeeze the excess water from the mask. Do not twist or wring it

Step 5
Dry the mask on a mild temperature, where the air is circulating. Keep it away from the sun and heat.




1640
DO POLLUTION MASKS MAKE BREATHING DIFFICULT?
People who practice sports worry about pollution and its effects. For this reason, they wear anti-pollution masks. However, it is important to remember that having adequate breathing is also very crucial. NAROO MASK products are different from other similar products because our masks allow breathability and comfort. Its high efficient non-electrostatic filter enables excellent air filtration and easy breathing.
1641
Where do you ship to and where do you have stores?
We have stores in Japan, Korea, Russia, Mexico, Chile, Colombia, Brazil and we also ship orders worldwide through our online shop.
We offer free shipping worldwide by K-packet (Korean Postal Service).
1642
Delivery information
We offer free shipping worldwide by K-packet (Korean Postal Service). 
Standard delivery takes 7 to 15 business days, depending on the condition of your country.
1643
DOES NAROO MASK HAS NIOSH CERTIFICATION? IS IT N99 CERTIFIED?
NAROO MASK is certified by BOKEN Quality, a Japanese certified certification provider. It proofs that our F line masks protect from particulate matters with sizes from 1.7 to 2.5 Microns at a 99% rate of effectiveness.
1645
What sport activities can NAROO MASK be used for?
It can be used for any sport or activity such as running, cycling, hiking, motorcycling, skiing, snowboarding and all other outdoor activities.
1646
Does NAROO MASK filter forest fire smoke?
Forest fire smoke contains particles measuring 0.01 to 4 microns. NAROO MASK protects from small particles up to 1.7 microns. Therefore, our mask partially filters forest fire smoke. Particles smaller than 1.7 microns won't be filtered by our mask.
1647
I'm a welder and I breath welding fume and grinding dust all day. Do you have any mask that can protect me from this?
Our masks are made for sportspeople and athletes. We focus on developing masks that allow you to easily breathe and filter the air. NAROO MASK balances between breathability and filtration function, so we can't guarantee that the welding fume will be filtered.
1648
Why do I need mask in summer?
NAROO MASK has developed a special mask that keeps you cool, controls humidity and protects against heat stroke, UV rays and insects. With your NAROO MASK, you can enjoy the summer with maximum protection.
1649
WHAT IS THE DIFFERENCE BETWEEN OTHER ANTI-POLLUTION MASKS AND NAROO ANTI-POLLUTION SPORT MASK?
Our masks are specially made for sportspeople and athletes. NAROO MASK allows you to easily breathe by balancing breathability and filtration functions.
1650
Does NAROO MASK fog my glasses or goggles?
Our masks have different levels of anti-fogging function. If the mask is used correctly, the fogging effect on the glasses or goggles can decrease significantly. See the instructions below.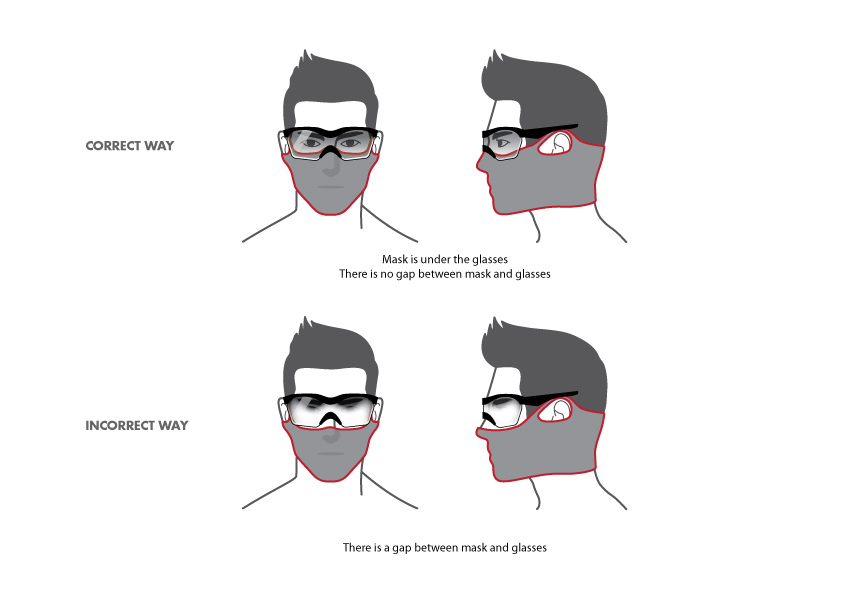 1652
What is the difference between full-face balaclava and half-face balaclava?
Half balaclavas are recommended for short-distance rides and full-face balaclavas for longer distance rides. Both can be used for motorcycling and winter sports such as skiing and snowboarding. Half balaclavas are also a good option for cycling!
1653
Can I cancel my order?
If you need to cancel your order, please contact us as soon as possible. Orders can be cancelled only if the order hasn't been shipped from our headquarters. Once the products have left our headquarters, it will not be possible to cancel the order.
1654
When will I receive the money back if I return a product?
You can receive the money-back after sending the product to NAROO MASK headquarters (confirm first with us the exact address), after confirming the product has arrived, the payment can take 10 working days to reach the client.
1657
WHAT ARE PAYMENT METHODS?
We accept PayPal. We also accept most credit and debit cards, including Visa, Mastercard, Visa Debit.
1658
Which carrier will handle my order?
We offer free shipping worldwide by K-packet (Korea Postal Service).
1661
How can I track my order?
Once you place an order, you can track the package at any time after shipping. You can confirm if your order has been shipped through K-packet (Korea post service). Once an order is out of South Korea the tracking system will be different depending on the country and specific courier, but the tracking number will be the same. Most of the cases will be handled by the customer country's national delivery system.


1637
DO I NEED TO CHANGE MY NAROO MASK FILTER? CAN I WASH MY NAROO MASK WITHOUT DAMAGING THE FILTER?
No, our masks are washable and can be used as long as desired. We have special washing instructions so that the mask is not damaged.